6 min read
The State of Insurance Brokerage Innovation with John Jackovin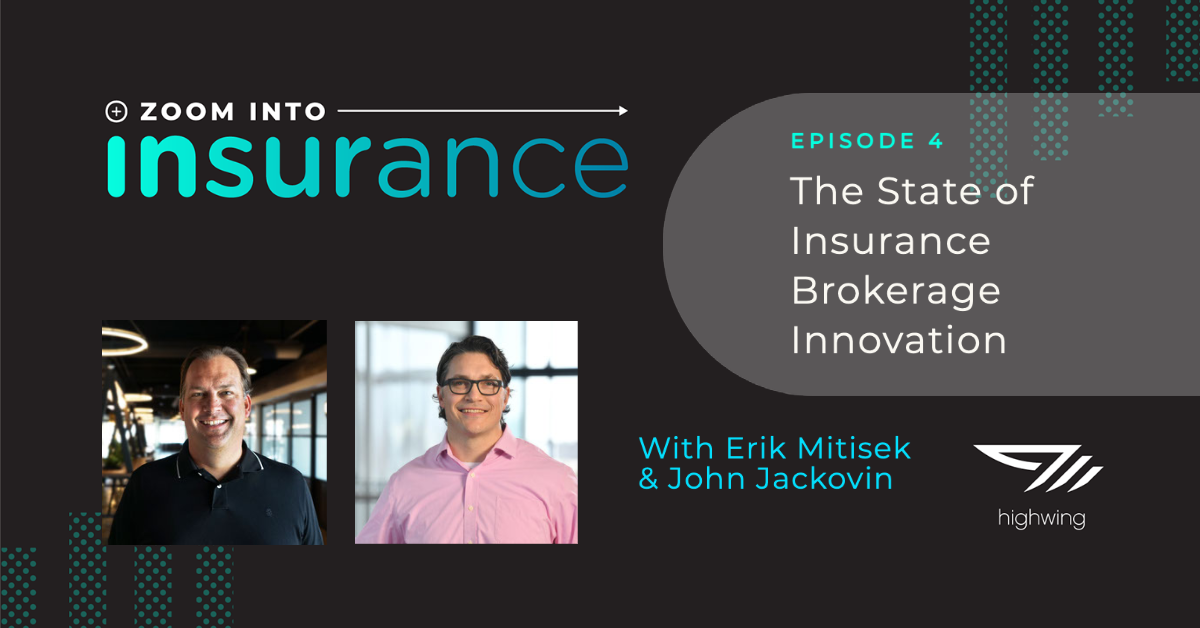 On Episode four of Zoom Into Insurance, Erik sits down with BrokerTech Ventures Accelerator Executive Director, John Jackovin to discuss the State of Insurance Brokerage Innovation. Here are some highlights from the Episode.
Listen to the full episode wherever you get your podcasts here or watch below.
When you look at the companies that have gone through the BrokerTech Ventures accelerator, what do they tell you about why right now is the time to innovate?
There's never a bad time to innovate. Innovation happens whether you are involved or not. It's like getting into a fight; you can say you're not in a fight, but if you're getting punched in the face, then you're in a fight. It's a conscious decision of whether you're going to be a participant and punch back, or you can get your face bloodied.
It's always a good time to look to improve how business is done. That goes for brokers, wholesalers, carriers, and every other industry.
When you look at the breadth of companies in BTV, what are some of the most promising trends you're seeing emerge?
The one trend I notice more than any is leveraging technology to take out waste. This is happening in every industry, but there's always work being done to remove waste from the regular way of doing things. The companies that tend to be most successful are the ones who make a habit of eliminating wasted effort. This frees them up to focus this extra time to grow business and double down on the things that add value to their relationships
What are the biggest obstacles to eliminating waste in brokerages?
This often involves mindset. At brokerages, oftentimes you have this mindset of "this is the way we do it" versus "why is it this way?" Brokers have run good businesses for a while, so change is hard for people. So I would say the hardest piece to overcome is not the technology, but getting buy-in.
From a leadership perspective, what are the steps managers and executives can take to change that mindset?
One exercise I like is to actually ask someone to walk you through a process and ask "if you knew nothing about this business, how would you do it differently?" You might find some overlooked areas where there are technologies that can improve the process, or uncover some deeper inefficiencies.
By nature this industry is about avoiding risk, so why would brokers take a risk on a new process or technology? Is there any magic to overcome that risk aversion?
Incentivizing risk-taking and failure internally is critical. There's a saying that nobody ever got fired for choosing IBM, but this attitude can stunt innovation. Obviously, you don't want people taking frivolous risks, but when you incentivize calculated risks, you'll see that there's a lot of innovation that can happen. Some of the work we're doing at BTV labs is aimed at promoting that concept.
When you look at the successful brokerages of tomorrow, what do they look like?
That's a big question that we'll maybe peel back one or two layers on, but I think the digital agency of the next ten years is going to look like a hybrid car. It's not fully electric, but there are some elements of what's being proposed today, and some of what exists already.
Offices will be less important, so geography will be less important, but the concept of a centralized office will go by the wayside. You'll also see agents becoming more scalable. With new technologies, single brokers can do more business and manage more relationships. A lot of companies in our class are looking at improving scalability especially for companies without huge margins. A lot of developments in automation will enable this.
As a result, it's possible the number of agents may contract a bit, but the business done on a per agent business will increase.
It's been an exciting year for BrokerTech Ventures, what are you most excited about with this year's accelerator cohort?
First off, it's impossible to identify one or two trends or companies. There are so many talented teams building products that we are so excited about. I thought after our first cohort that maybe we used up all the mojo, but there is still so much innovation yet to happen. There is not one thing we do in our daily lives that isn't touched by insurance, so I think this is going to be a well that continues to supply.
One thing I see in this class is that the companies that are really resonating are the ones that are very niche. They solve a really particular problem. Propeller for example focuses on insurity bonds and they really know the problem space. Acclaimant is another example. Claims processing is a small niche but they hit the nail on the head with it and have a deep understanding of the problem. I'm also really excited about how AI is being leveraged to streamline processes, and we have some great work going on in that area.
Having gone through Techstars, you know that they are steeped in values. Are there specific values you preach for BrokerTech Ventures?
Well, we haven't hashtagged anything yet!
But when I talk to the startups about engaging with partners, the mantra is "find the problem." A lot of founders will pitch or interview stakeholders and or a second and strike a nerve briefly but then move on. We focus on listening more than we talk and finding the problem. When you strike that nerve, dig into it to find the problem.
If you see somebody feeling pain and you have a solution, that's great. I like using the analogy of vitamins versus painkillers. Vitamins are great, but nobody is going to rush to the store to get the vitamin when they have a headache, they're going to go get the painkiller.
For partners, I also preach brutal honesty. Founders will believe what they want to believe, but partners have less bandwidth for that idea. I always say that in pitches, the best answer is "yes", the second-best is "no", and "maybe" is the worst. Everyone likes to be nice and cordial, but for startups with limited time and cash, it's important to be brutally honest.
What's the one thing that principals and other innovation leaders should remember from this discussion to take into their day?
My principal point is to always be questioning yourself and asking yourself "why?" We just walk through our life on autopilot a lot but you should ask yourself "why?" as often as possible. If you can't find a good answer to that, it's probably worth taking a deeper look at.
Subscribe on Youtube, or wherever you listen to your podcasts here so you never miss a new episode.
About John Jackovin
As the Executive Director of the BrokerTech Ventures Accelerator, John is tasked with introducin
g new
companies and technologies, driving innovation into BrokerTech Ventures' owner and partner companies, mentoring broker-focused tech startups, and producing an eventual return on investment from technologies implemented.
Jackovin comes to BrokerTech Ventures with a lens into the startup world. Over the years, Jackovin has created companies that have produced millions in revenue and have serviced thousands of customers. In 2014, he took a company through Techstars, one of the most prominent and successful technology accelerators in the world. Since then, Jackovin has consulted for many organizations in the world of Fintech and InsurTech, most recently Des Moines-based Dwolla, where he managed the Growth and Internal Services Product teams.
Active in the community, Jackovin is a member of the Ambassador Club of Des Moines.
In his free time, he enjoys spending time with his wife and two daughters, as well as working out and cheering on the Iowa Hawkeyes.