STAY UP TO DATE ON ALL THINGS HIGHWING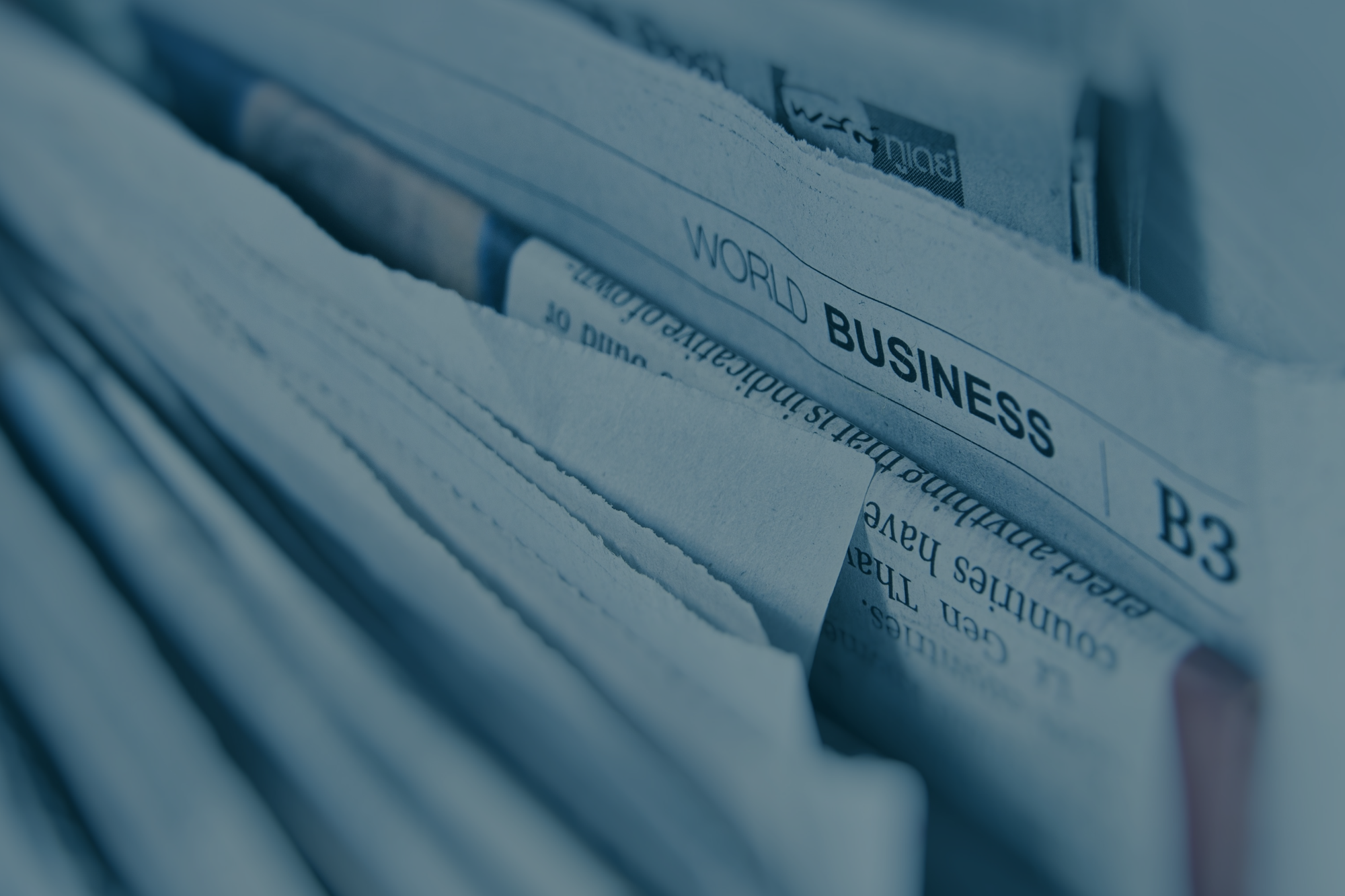 September 13, 2023 | Read the original Press Release from TheHartford.com here.
The Hartford Launches New Digital Submission Capabilities For Agents And Brokers Of Midsize And Large Accounts
Company now offers seamless digital experience to transact mid- to large-sized business for general liability, automobile, property, and workers' compensation coverage
HARTFORD, Conn.--(BUSINESS WIRE)-- The Hartford has expanded its digital capabilities with new submission and quote Application Programming Interfaces (APIs), and portal options for agents and brokers who write midsize and large businesses. These new capabilities save time, provide faster turnaround, and increase accuracy. Agents and brokers now have easier access to share submission data and request a quote for general liability, auto, property and workers' compensation accounts.
"We continue to invest in digital capabilities that provide our business partners with the tools they need to do business in the most efficient way," said A. Morris "Mo" Tooker, head of Middle, Large, Specialty Commercial and Enterprise Sales & Distribution at The Hartford. "Our digital capabilities are built on agent and broker feedback. These new digital experiences are another example of The Hartford listening to its distribution partners and innovating to create improved customer experiences."
Additional benefits of the new portal include:
Ability to quickly share data and information;
Easier submissions with pre-populated data;
Access to the new business submission process is available through direct API capabilities and online portals. The Hartford will also enable API operating relationships with agents and brokers who use vendor API solutions for their midsize, large and specialty accounts. The insurer has partnered with Highwing, Inc., a company that is focused on providing data management and processing solutions for both brokers and carriers. Highwing helps to seamlessly connect agents and brokers with carriers, ensuring open communication, transparency, and accurate data sharing with The Hartford.
These digital enhancements are in addition to the company's Electronic Business Center (EBC) Agent Portal, which provides access to digital tools that provide transparency into what's happening with accounts of all sizes – all in one centralized location. The EBC capabilities include policy management, billing/invoices, service requests/endorsements, access to claims information reporting and more, giving agents and brokers the opportunity to decrease turnaround times, increase accuracy and gain access to real-time processing for many transactions.
About The Hartford
The Hartford is a leader in property and casualty insurance, group benefits and mutual funds. With more than 200 years of expertise, The Hartford is widely recognized for its service excellence, sustainability practices, trust and integrity. More information on the company and its financial performance is available at https://www.thehartford.com.
The Hartford Financial Services Group, Inc., (NYSE: HIG) operates through its subsidiaries under the brand name, The Hartford, and is headquartered in Hartford, Connecticut. For additional details, please read The Hartford's legal notice.
HIG-M
Some of the statements in this release may be considered forward-looking statements as defined in the Private Securities Litigation Reform Act of 1995. We caution investors that these forward-looking statements are not guarantees of future performance, and actual results may differ materially. Investors should consider the important risks and uncertainties that may cause actual results to differ. These important risks and uncertainties include those discussed in our 2022 Annual Report on Form 10-K, subsequent Quarterly Reports on Forms 10-Q, and the other filings we make with the Securities and Exchange Commission. We assume no obligation to update this release, which speaks as of the date issued.
From time to time, The Hartford may use its website and/or social media outlets, such as Twitter and Facebook, to disseminate material company information. Financial and other important information regarding The Hartford is routinely accessible through and posted on our website at https://ir.thehartford.com. In addition, you may automatically receive email alerts and other information about The Hartford when you enroll your email address by visiting the "Email Alerts" section at https://ir.thehartford.com.
Around the web.
Looking to dive deeper into the digitization of commercial insurance? See our resources and media here.
If you are interested in featuring us on your publication, podcast, Youtube channel, or blog, please reach out to hello@highwing.io

INSURANCE LUMINARIES FLOCK TO HIGHWING
Leading insurance marketing platform expands its leadership team with new CEO and advisory board
Denver, CO | April 21, 2022 09:02 AM Eastern Daylight Time
Denver, CO | April 21, 2022 09:02 AM Eastern Daylight Time

Highwing, commercial insurance's first marketing platform, has named insurance veteran Jim McKenney as Chief Executive Officer and added an advisory board of highly experienced professionals to support its aggressive expansion.

Effective immediately, McKenney will lead the company's talented team of insurtech professionals and realize the company's vision to address significant challenges and opportunities in commercial insurance through technology.

President and Co-founder Erik Mitisek will remain with the firm, leading new business development, marketing and sales.

"After developing and implementing sophisticated technologies in one of the world's leading carriers, I know the value and potential of Highwing and its next-generation marketing platform," said McKenney. "I'm eager to build on its growth and reputation, ultimately moving the industry forward to meet the promise of technology and speed up the time it takes to bind insurance."

McKenney has a proven record of leading the strategy and implementation of workflow platforms. Among other notable achievements, he led a 600-person team of experts in product and underwriting as Senior Vice President for Liberty Mutual. As EVP Business Head and Chief Strategy Officer for Intellect Design Arena, he led global digital transformations for leading large-scale carriers.

A newly created Advisory Board will support McKenney. Chaired by industry veteran Patrick Kinney, retired Executive Vice President Field Management, Business Insurance, Business Insurance Marketing and Communications for Travelers, the three-person board includes Piyush Singh, founder and CEO of Terrene Labs and former CIO of Great American Insurance, and Jim Klotz, former Vice President and Research Council fellow for Aite-Novarica Group.

The team brings unparalleled industry knowledge, strong relationships with large and mid-sized carriers, and a passion for using technology to serve all aspects of the insurance industry — from clients to carriers to brokers.

"Solving the most challenging problems in insurance takes decades of experience and knowledge to understand the pitfalls and opportunities," said Kinney. "Working together on a product that breaks down barriers and changes the paradigm for brokers and carriers has been a longtime goal for all of us. We look forward to a collaboration that brings this to life for the industry."

Highwing has experienced rapid growth since its $4M capital raise in 2020. In the last six months, Highwing has added new middle-market brokers to the many top 50 U.S. brokerage firms already using the marketing platform to accelerate workflows, innovation and growth.

"Highwing is at a tipping point, and Jim and our slate of advisors have the experience, relationships and passion for scaling rapidly," said IMA Financial Group Chairman and CEO and Highwing Director Rob Cohen. "The success of Highwing goes beyond company growth; it sets the industry on an innovation path to effectively deploy technologies in a way that transforms how brokers and carriers work together."



Highwing provides open-data-powered solutions that bring brokers and carriers together for faster transactions and transparent communication while enabling integrations with best-in-class tools at every marketing process and workflow stage. Highwing's platform enables brokers and carriers to market, quote and bind policies faster, write and retain more profitable business, track insights, improve communication and speed up innovation through its open API and data model.
This press release was originally published on NewsDirect.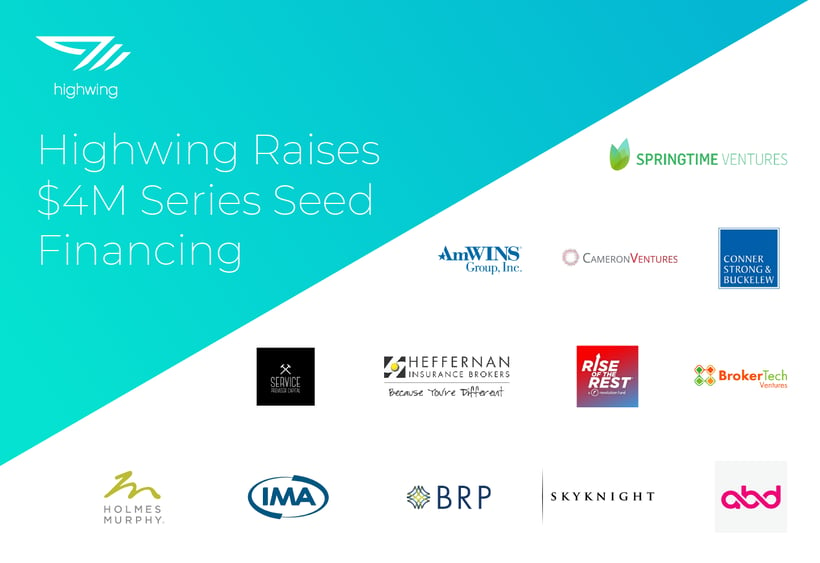 HIGHWING RAISES $4 MILLION SEED ROUND LED BY BROKERTECH VENTURES AND BALDWIN RISK PARTNERS
Funds Engineering Team and Product Expansion Creating the First Open Data Platform for Commercial Insurance
DENVER, Colorado, November, 10, 2020 – Highwing, an insurance technology company born out of IMA Financial Group to help commercial insurance brokers and carriers accelerate workflows through its open data platform, today announced that it has closed a $4M fundraising round from several leading investor groups.
This investment round was led by a middle market subsidiary of BRP Group, Inc. (NASDAQ:BRP), a rapidly growing independent insurance distribution firm delivering tailored insurance solutions, and BrokerTech Ventures, the industry's first broker-led convening platform for innovation, ideation, investment, and communication. Several other investment groups also participated including BrokerTech Ventures member firms Holmes Murphy, The ABD Team, Conner Strong & Buckelew and Heffernan Insurance Brokers. They join SkyKnight Capital, Revolution's Rise of the Rest Seed Fund, SpringTime Ventures, Cameron Ventures, AmWINS Group, and Service Provider Capital in supporting Highwing to build the future of commercial insurance.
Highwing's CEO Erik Mitisek said, "Our vision is to create an open data ecosystem that gives brokers the ability to rapidly deliver the holistic risk management solutions that today's mid-market customers want. We're humbled by the big vote of confidence we've gotten from leading industry investors."
Highwing, which counts three of the top five global insurance carriers as clients, will use the seed funding to scale its engineering team and further expand its product suite by adding a placement engine that enables users to engage, organize, and submit insurance applications and collaborate with partners, through a single application. Brokers and carriers can dramatically reduce the effort and time required to place competitive policies, from new opportunity- to submission-to-quote-to-bind.
Commercial insurance is a growing industry that is expected to reach $900 billion by 2021 but has been so far held back by the use of manual methods. According to a 2019 CFO study conducted by Highwing, 63% of CFOs said they use manual processes (spreadsheets and PDFs) via email to procure commercial insurance, despite 98% saying that they would operate more efficiently and 83% saying departments are more cost effective when using dedicated technology solutions. As a result, Highwing was created to empower commercial insurance brokers and carriers to improve growth and customer success through modernization.
ABOUT HIGHWING
Highwing provides open data solutions that help mid-market commercial insurance brokers and carriers move faster and go further for their clients. Highwing's platform enables direct connectivity between brokers and carriers, powering efficient workflows, data-driven insights, and profitable growth.
This press release was originally published on GlobeNewswire and is available at the following link: https://www.globenewswire.com/news-release/2020/11/12/2125135/0/en/UPDATE-Highwing-Raises-4-Million-Seed-Round-led-by-BrokerTech-Ventures-and-Baldwin-Risk-Partners.html
HIGHWING IS DIGITALLY EMPOWERING THE FUTURE OF COMMERCIAL INSURANCE.
And we would love to show you how. Let's get in touch!