4 min read
Reinventing Insurance Distribution: OnRamp Insurance Themes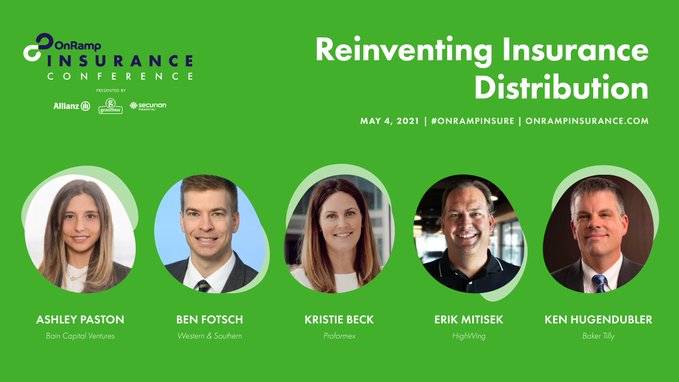 Earlier this week, Highwing CEO Erik Mitisek joined a panel of other industry experts for OnRamp Insurance, a virtual conference highlighting innovations disrupting the insurance industry, the leaders making such innovations possible and how new technologies and business models will reinvent the industry.
The panel, Reinventing Insurance Distribution, featured decades of industry experience and a unique diversity of perspectives. The panel was moderated by Ken Hugendubler, Partner and Insurance Industry Practice Leader at Baker Tilly Virchow Krause, and featured Ashley Paston, Principal at Bain Ventures, Ben Fotsch, VP of Digital Strategy & Execution at Western & Southern, Kristie Beck, CEO of Proformex, and Highwing's own Erik Mitisek.
Here are the main takeaways from the panel:
Do you think the use of data & analytics has become a customary part of how insurers do business?
Of course- analytics gives brokers the ability to:
Better understand carrier appetite and market opportunities
Identify areas to create new efficiencies
Understand their clients better and offer a more consultative approach
Help insured clients understand how much coverage/what types of coverage they really need when comparing to other buyers in the market
With more connected tools and systems already affecting the industry, our analytics capabilities will grow and become a critical part of how we do business.
Do you think we'll see a rise in digital distribution models after the last year?
Yes, and we are already seeing the trend, but that doesnt mean the human element of our job will be replaced. To the contrary, relationships will become even more important. Digital distribution and other insurtechs should focus on complimenting the broker's personal skills and maximizing the time that brokers and carriers have to nurture relationships.
How has the evolving insurtech landscape over the last decade impacted how consumers are purchasing insurance?
The answer to that really depends on the line of business; health, home, auto, and a few other personal lines have arguably changed more than complex commercial
In the larger, more complex lines, technology has been focused on broker and carrier transactions and making that process more seamless. From the customer's point of view, it's likely that not that much has changed. Looking forward, a focus on customer experience in complex commercial lines will be a substantial driver of change.
Where do you see the agency/broker distribution system in ten years? Lots of small-town personal and commercial lines policies are still being sold through serviced by small "mom and pop" agencies. How will technology change them?
The rise of insurtechs will allow these mom-and-pop shops to become more digitally advanced, giving them an option to plug software into their existing operations rather than building out a system on their own, which is obviously not feasible. Lots of insurtechs in the commercial space are aimed at making these mom-and-pop shops more competitive and resilient.
Many of these agencies may resist technology changes that they could perceive as putting them out of business…..what would you say to these agencies and the role they could play with technological changes?
There are a lot of parallels between what happened to banking in the wake of the 2008 housing crisis and what covid has done to insurance. An extreme, unexpected event forced the pace of change to accelerate greatly to meet new expectations. What we saw in banking was that the technology companies who worked with incumbents to streamline their processes and better satisfy customers emerged as winners. A similar trend is playing out in insurtech.
Across industries, technology-led disruption generally removes the C and D players and lifts up the A & B players who learn to work with it. Insurtech won't take your job, it will remove the mundane parts and let you focus on building and nurturing relationships.
Do Millennials still like some sort of human "touch" in the distribution and servicing processes? What role does technology play to enhance the "touch" versus "replace" the "touch"?
Millennials are impatient and have a high bar for customer experience. The human touch needs to be efficient and provide value that they can't get digitally. To accomplish this, these touchpoints need to become more consultative in nature.
A lot of platforms aim to make the mundane paperwork/other transaction processes "low touch" and allow brokers to focus their time on high-value "high touch" activities.
I see a lot of mergers/acquisitions of agencies particularly by private equity firms but some public offerings as well. Do you see this trend continuing and how long?
A lot of insurtech in the small commercial space may allow some firms to hold out longer if that's what they want, but it could also make the acquisition targets more attractive. Digitally savvy brokerages are easier to integrate into your systems than brokerages operating on legacy systems.
Another advantage to M&A is gaining access to and integrating new sets of data to further empower analytics.
In Summary:
Advanced analytics will continue to become a key part of our business
Digital distribution will allow brokers to focus more on relationships
Insurtechs will allow small brokerages to become more digitally savvy
Insurtech may make brokerages more resilient to M&A, but also more attractive targets.
Want to learn about how Highwing powers the future of commercial insurance distribution? Let's get in touch!